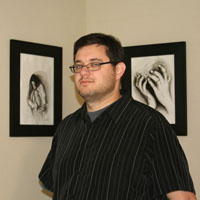 James Taylor has a background in traditional art receiving a BFA (Fine Arts Degree) with an emphasis in graphic design in 1998 after taking a few years off of college to work in wine sales. After finishing college he began work as a graphic designer in the tech industry until 2002, surviving the bursting bubble by a couple of years. While working as a designer James started in the comic book industry as an inker in 1999 as a fun side job at night and switched to full-time when his software company closed up show. Since then James has work for many different publishers but seems to have been strapped to the hip of PFP over the last two years working on The Victorian, Para and of course Decoy.
James currently resides in the Seattle area, continually working as a freelance inker and graphic designer and is rarely allowed to leave his home. In 2003 he started his own little publishing company, Rorschach Entertainment, to give new creators an opportunity to work in the comic book industry – quite often giving them their first published work.
Education:
Calvin College – Grand Rapids, MI 1998-99
Studied Graphic Design and Fine Art.
Shoreline Community College – Shoreline, WA 1994-96,2000
Studied Fine Art and Economics.
Concordia College – Moorehead, MN 1993/94
Studied Fine Art/Graphic Design and Economics.